Raphael Eschmann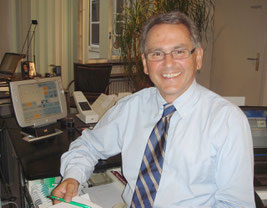 Études à la Höhere Fachschule für Augenoptik und Optometrie SFOF (aujourd'hui BEUTH Hochschule für Technik) à Berlin, complétées en 1975 avec diplôme d'opticien-optométriste. De 1975–1978 participation à la recherche et au développement de nouveaux matériaux et de nouvelles géométries de lentilles de contact chez Titmus-Eurocon (aujourd'hui CibaVision).
Depuis 1978 activité dans son propre institut d'optique et d'optométrie. 1998 obtention du titre de Master of Science in Clinical Optometry au Pennsylvania College of Optometry (PCO), depuis 2001 Visiting Associate Professor au PCO de la SALUS-University, Philadelphie, États-Unis, membre de la faculté exerçant une activité scientifique spécialisée.
Membre de la Société Suisse pour l'Optique et l'Optométrie (SSOO), membre de la Vereinigung Deutscher Contactlinsen-Spezialisten und Optometristen e.V. (VDCO), Fellow of the American Academy of Optometry (AAO) et Fellow of the British Contact Lens Association (BCLA).
Langues: allemend, français, anglais, italien