Leo Neuweiler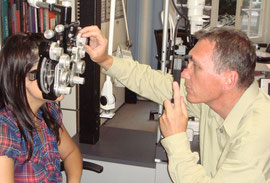 Propriétaire de Eschmann - Contactlinsen AG depuis le 01.07.2017.
Études à la Schweizerischee Höhere Fachschule für Augenoptik à Olten, complétées en 1985 avec diplôme d'opticien.
Depuis 17 ans activité optométrique en tant que responsable du service des lentilles de contact dans un grand magasin spécialisé dans la région de Berne.
En 2003 obtention du titre de Master of Science in Clinical Optometry au Pennsylvania College of Optometry (PCO), Philadelphie, États-Unis.
Membre de la Société Suisse pour l'Optique et l'Optométrie (SSOO) et Fellow of the American Academy of Optometry (AAO).
Langues: allemand, français, anglais