Leo Neuweiler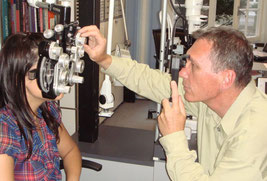 Owner of Eschmann - Contactlinsen AG since 01.07.2017.
In 1985 completion of studies with a Diploma in Ophthalmic Optics at the Höhere Fachschule für Augenoptik (SHFA) in Olten, Switzerland.
In 2003 graduation with a Master of Science in Clinical Optometry at the Pennsylvania College of Optometry (PCO) in Philadelphia, USA.
Until 2008 work in ophthalmic optics and optometry and head of the contact lens department at leading specialist enterprises in the greater Bern area.
Member of the Swiss Society of Ophthalmic Optics and Optometry (SSOO) and Fellow of the American Academy of Optometry (AAO).
Languages: German, English, French